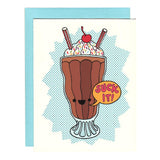 Betty Turbo
Suck It Milkshake Card
$2.00 $5.00
This card is emphatic while still charming in a chocolate flavoured way. A fun, alternative card for a friend.
This greeting card is a design by Betty Turbo, a USA based illustrator whose work features quirky characters and beautiful typography. The card is blank inside and comes with a matching pale blue envelope.
Measurements:
This stylish card measures just under A6 sized.