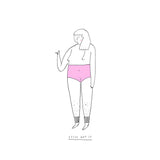 Amy Victoria Marsh
Still Got It Risograph Print
$13.00
You've still got it! This cute, simple risograph print is the perfect art piece to hang next to your bedroom mirror for some morning motivation.
The Still Got It print is a risograph reproduction of an original illustration by British artist Amy Victoria Marsh. It depicts a cute lady in bright neon pink pants and nothing else, offering you some words of encouragement. The minimal, sweet art style looks great on any wall!
The piece has been riso printed in fluro pink and black onto 135gsm paper.
Measurements: 
The Still Got It art print is A4 sized.